Answer Telephone Messages
Respond to a Telephone Call
If you typically answer the telephone in your office, you may wish to keep the Find Contact page open at all times. Open this page from the Messages menu by selecting Contact in the New column or from the Contacts menu, select Find or Add a Contact under the Find Contacts column.
1.Enter the first and last name of the caller in the Name field.
2.Enter the telephone number in the Phone Number field and click the Find Existing Contacts button.
3.If you have located the Contact, use the +Opinion in-row action to create a new message.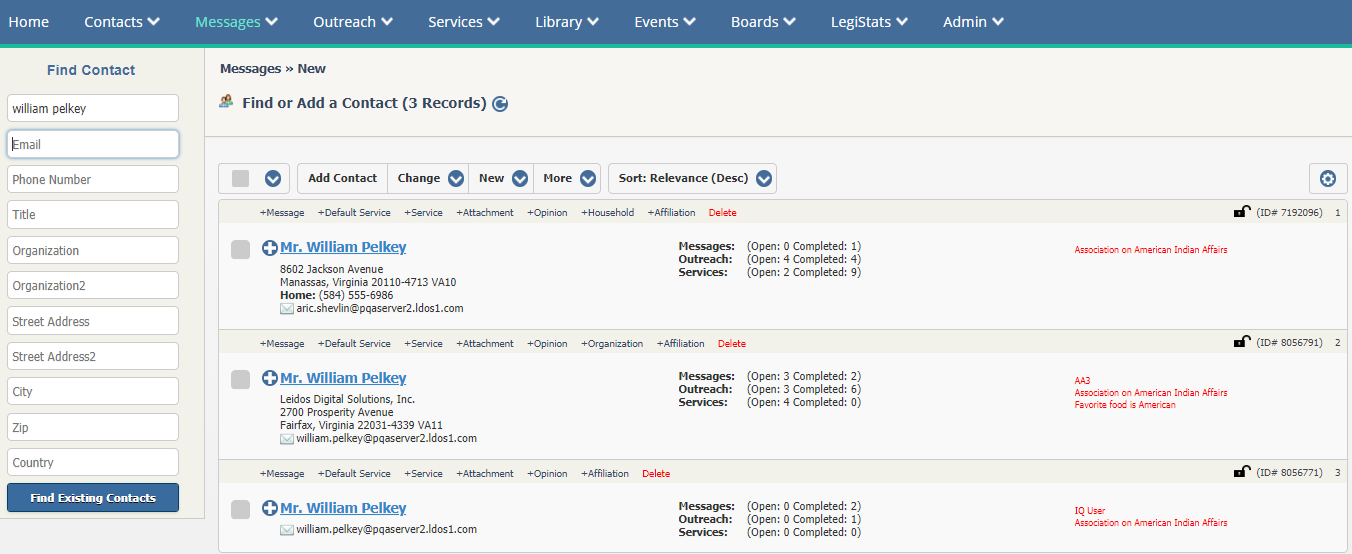 4.If you have not located the contact, select the Add Contact button to create the contact record. Steps to create the contact record are found here.
5.In the New Opinion record, select Telephone Call in the Method In field.
6.Enter the caller's opinion in the Comments field. Note: A clickable list of previous opinions will appear in the Common Opinions... to the right of the Comments field.
6.Select the appropriate Affiliations and/or Issue code(s).
7.In the Assigned To field, select the user who will be responsible for responding to this phone call.
8.Select the outgoing method in the Method Out field.
9.Select the Form Letter response, if available or click the New link to create a new Form Letter.
10.Select an existing batch from the list or click the New link to add a new batch.
11.Click the Respond button to create a pending Message record. Select the Do not Respond button to create a closed Message record. Note: The "Do not Respond" button is not available for IQ Users with Security Lock #325 Denied.
12.IQ keeps the Find Contact search open so you can search for the next caller.
---
Copyright © 2020 Leidos Digital Solutions, Inc (DSI)