Add a Contact to a Household
The primary advantage to Householding Contacts is that you can send targeted mailings to every member of a Household, the Head of the Household, or a single member of the Household.
Add a New Contact to a Household
1.To add a new Contact to a Household, open the Contact record for another person in that Household.
2.Use the Plus icon

to the right of the Household Members section heading to add a new member.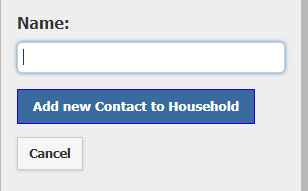 3.Enter the name of the Household member.
4.Click the Add new Contact to Household button. The Household member is added with the same Primary Home address as the existing Contact.
5.Click the name link to view the new Contact record.

Link Existing Contacts in a Household
1.To link existing Contacts records to the same Household, locate all Household members in a List View.
2.Select all Contact records you would like to link as Household members.
3.Open the Change button menu at the top of the list.

4.Select Household. IQ displays the Household Selected Contacts dialog.
5.Select which Contact will be the Head of Household. Note: The head of household will be denoted by a Star next to the name link in the Household Members section in the Contact record.
6.Click the Household button to link the contacts immediately, or select Household Later to place the Contacts in a Manual Merge Set for processing at a later time. For information on Manual Merge Sets, click here.
---
Copyright © 2020 Leidos Digital Solutions, Inc (DSI)