Alerts
View Alerts in the Home Page Tile
The first place that you will see new alerts is in the IQ Home Page. The Alerts tile scrolls through all of your current alerts. The tile will scroll automatically, or you can manually page through the alerts using the < and > arrows at the bottom of the tile.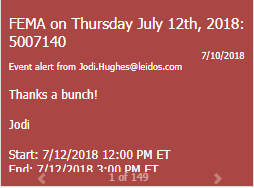 The Alert Tile only shows Alerts that have not been Read. When the Alert in the Tile on the Home page or the Link in the Alerts List View is clicked, the Alert is marked as Read, and no longer displays in the Home Page Tile.
Important Note:
IQ Discussion and Event Alerts which are forwarded to an external email address contain the Sender's Forwarding Email Address instead of the IQ System Default From Email Address.
To view, edit, or delete all of your Alerts, open the Shortcuts menu and use the Alerts link. You will see all of your active alerts in a List View.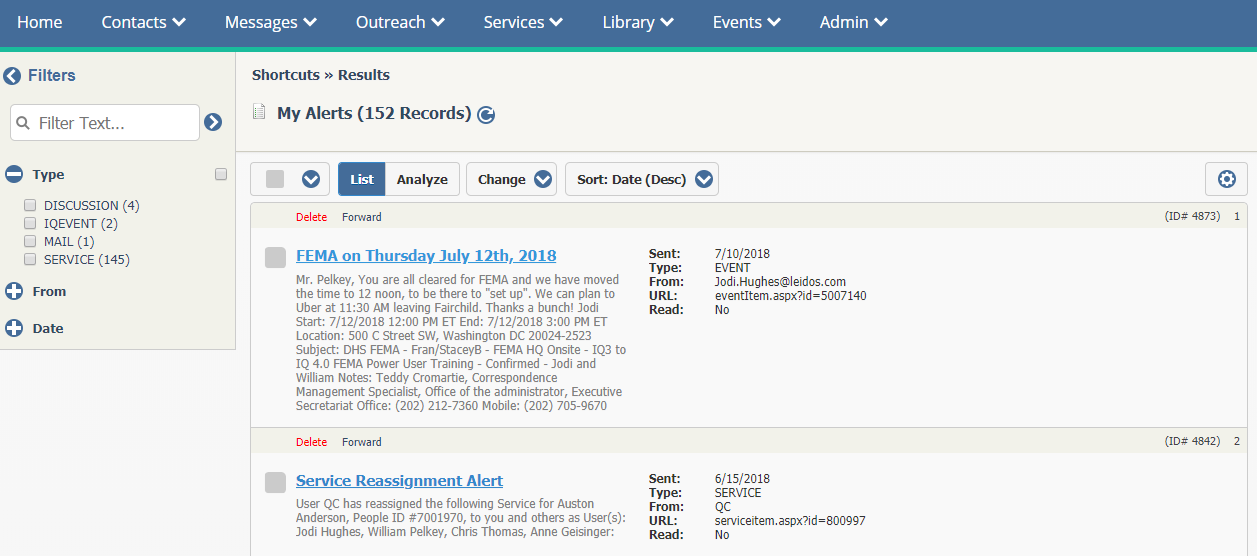 1.To open the record that generated the Alert, click the Alert Name Link.
2.The Alerts Grid shows all Alerts, whether they have been read or not. Each Alert displays a Read field showing Yes or No.
3.To Delete one or more Alerts, select the Alerts and use the Delete Selected Action on the Change drop-down menu.
4.To Delete all Alerts that you have read, use the Delete Read Action on the Change drop-down menu.
---
Copyright © 2020 Leidos Digital Solutions, Inc (DSI)