---
Add Roles to Service Contact Records
Some Services may have a lot of Contact records attached. In order to effectively process a Service, it's important to know what role each person plays in handling the Service. To facilitate this, the Service Template you are using can be configured to display different roles. For a Casework Service, these roles might be Primary, Agency Liaison, Spouse, Dependent, Legal Guardian, Legal Representative, and so on. In an internal process, the roles might be Initiator, Reviewer, Subject Matter Expert, Legal Review, Approver, Signatory, etc. Roles for each Service Template are defined by your office. You may designate as many as 99 roles, although that many roles would not be required in most Services. In addition, a Service Template can be configured to allow only one role per Contact, or multiple roles per Contact.
Add Roles to All Service Contact Records
1.To assign roles to all Contacts attached to a Service, navigate to the Contacts tab in the Service record.
2.Select all Contacts by using the Select All check box at the top of the List View.
3.Use the Change button at the top of the List View.
4.Select Roles.
5.Use the check boxes to assign one or more roles to each Contact listed. Use All or None to assign or unassign a role to all or no Contacts.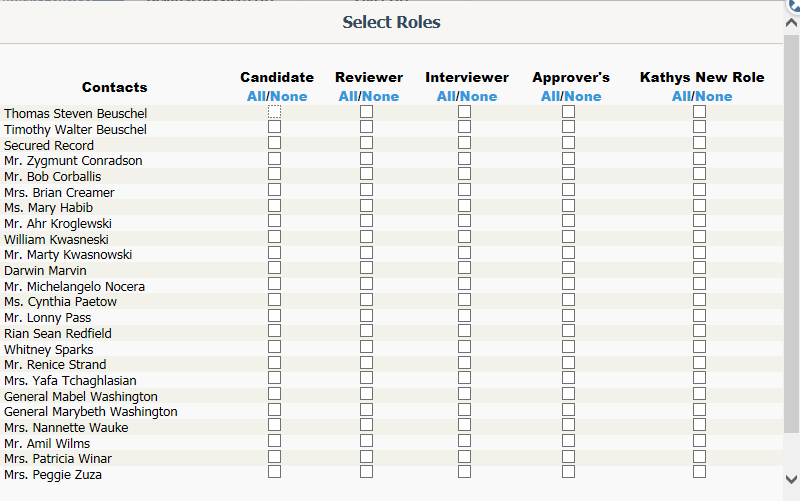 6.Save when you are finished.
7.All Roles are displayed to the right of the Name in the Contacts panel and are available as Filters.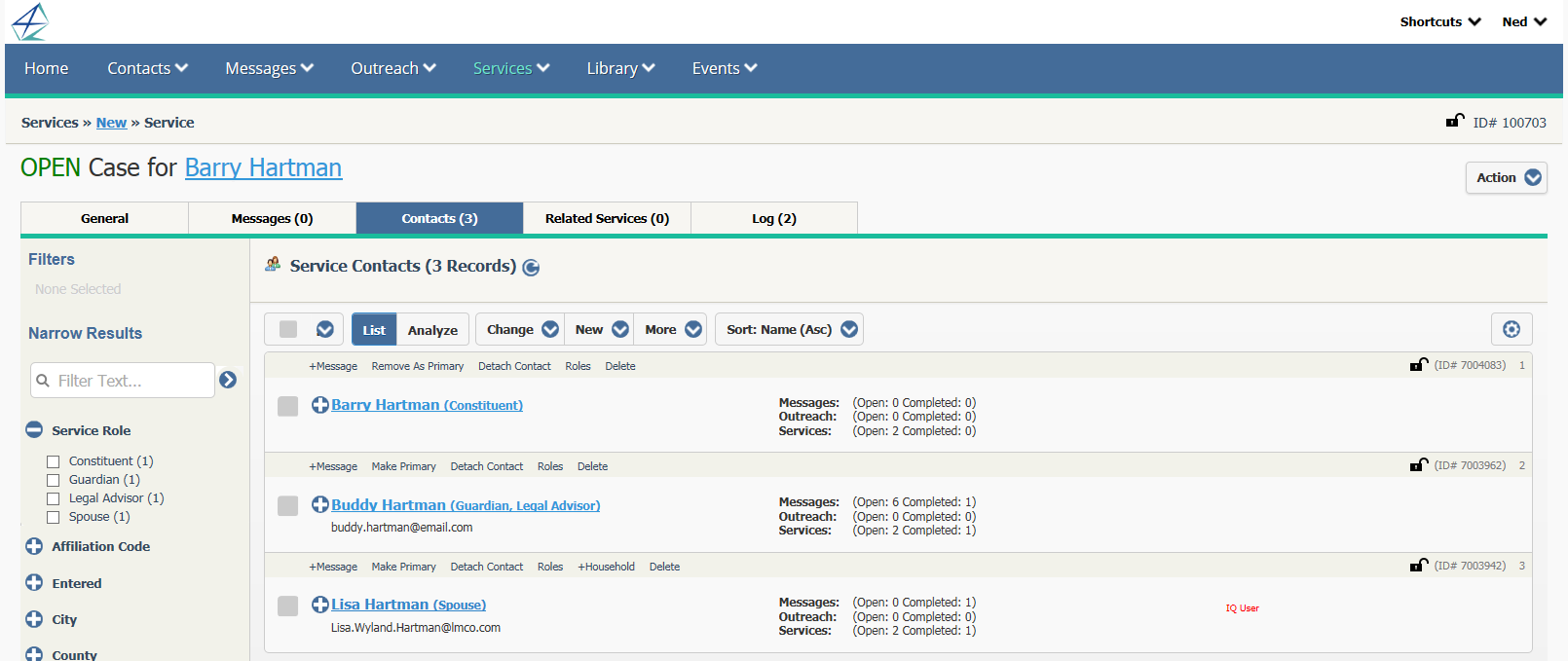 Update Role for Multiple Services for the same Contact
You can update the role for a Contact record associated with the same Service type from inside the Contact record.
1.Access the Contact record.
2.Open the Services tab and select the Service records with the Role which needs to be updated.
3.Select "Contact Role" in the Change drop-down menu.
4.IQ opens the Select Roles dialog, with the selected Service records and roles.
5.Check the appropriate role for each Service record or click All to select a role for all services or click None to unselect a role from all services.
6.Click the Save button. The selected role appears to the right of the Name.
---
Copyright © 2020 Leidos Digital Solutions, Inc (DSI)