Log Opinions
If your role in the office is to answer the phone and log opinions for analysis, you can use IQ's Opinion Center to automatically create a Contact and Message record for the caller. IQ also allows you to record opinions for callers who do not want to provide their name and address.
1.From the Messages big menu, select Opinion under the New column. IQ displays the New Opinion page.
2.Type the caller's Name, Address, Phone Number and/or Email Address.
3.Click the Search button. IQ displays a list of possible matches.
4.Click the radio button for the matching Contact record or select the Add New Contact radio option.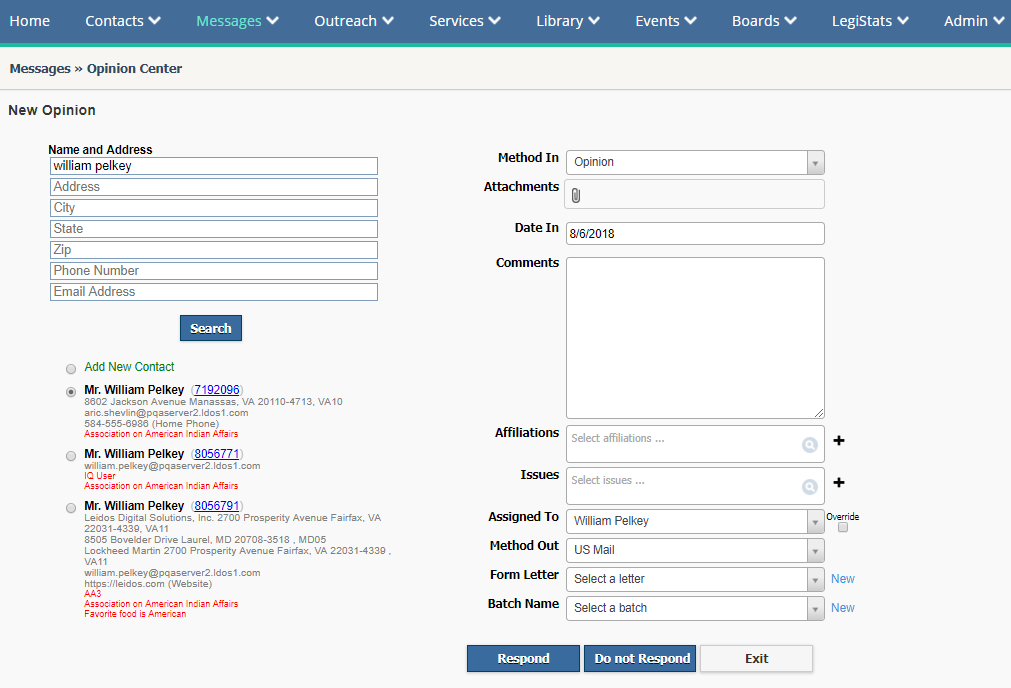 5.Enter the caller's Comments.
6.Select the appropriate Issues. IQ displays the related form letters and updates the Assigned To field with the user associated with the selected Issue Code.
7.You can reassign the opinion response to another IQ user in the Assigned To field.
8.The Method Out displays the default Message Method on the Contact record.
9.Select an Issue Related Letter, if available and appropriate or click in the Form Letter field and select a letter.
10.Select a batch or create a new one, if appropriate.
11.Once you have completed the fields, use the Respond button to create a pending Message record or select Do Not Respond to create a completed Message record.
---
Copyright © 2020 Leidos Digital Solutions, Inc (DSI)