---
Create an HTML Form Letter
To create an HTML Form Letter, select an HTML Format to begin. An HTML Form Letter integrates with an HTML editor. You can use the Track Changes feature in the HTML editor, as well as create headers and footers in the Format. HTML style is native to IQ4 and is generally considered to be the best option. HTML Form Letters are best used for Emailed Messages.
If you are creating an eNewsletter, you should opt for the HTML Style. The HTML editor provides the most consistent displays in your recipients' various email clients.
Important Note:
A Bookmark is used in an HTML Format to indicate where to merge the content into the Print Format. The [[$$$LetterText$$$]] insertion point is used in an HTML Email Format to indicate where the content will be merged into the Email Format.
Email Hide Merge Codes are not required in an HTML Form Letter since there is a separate Email Format and a separate Print Format. The Email and Print formats should be configured to display everything required except the content that is unique to each Form Letter. Print Formats generally have a date, an address block, a salutation and a closing block. You may include header and footer information in the Print Format as well. Email Formats generally have the date, the salutation, and a closing block appropriate for email. You may also want to include an image banner or footer information as well.
Create a Content Style Form Letter
1.From the Library Big Menu, select Form Letter in the New column.
2.Type the new Form Letter name. Each Form Letter must have a unique name in IQ.
3.Select the Directory in which you would like to place this Form Letter.
4.Select an HTML Style Format. You may know which are HTML Style, but this process is made easier by naming Formats in such a way that you can tell the difference between MS Word or "Classic Style" and HTML Style.
5.Use the Add button.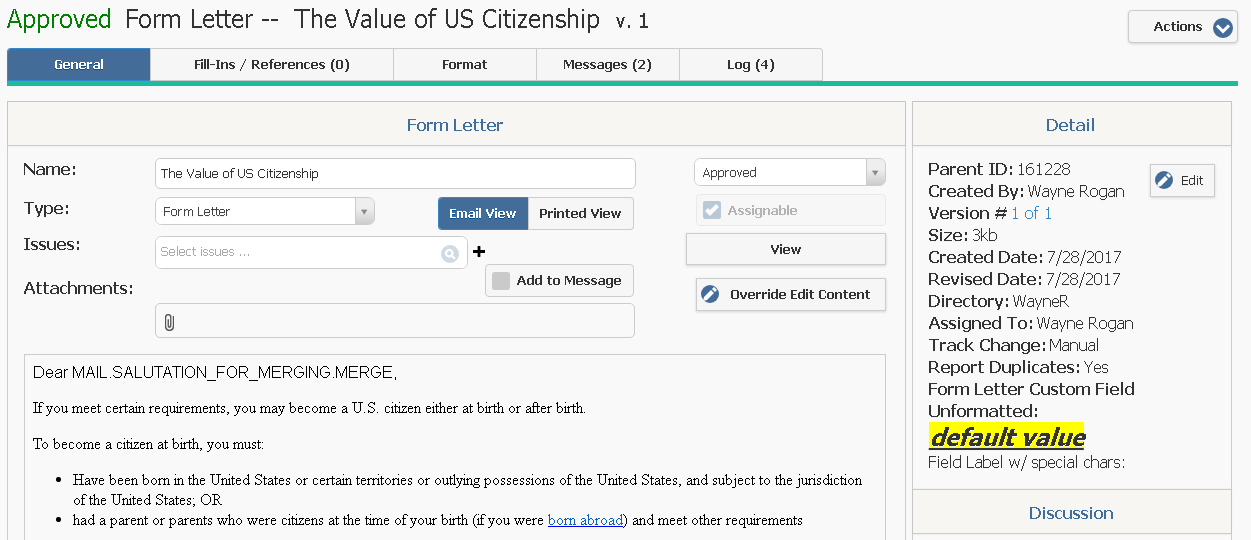 6.To create or edit content in the Form Letter, use the Edit Content button. This will open an HTML editor for you to enter content.
7.Select the View button to open the doucment
8.Copy or enter the content you wish to use. When you are finished, use the Save button.
9.When you are ready to use this Form Letter in Messages, change the Status to Approved.
Important Note:
In a Form Letter, Form Letter Template, or Message, you can change the color associated with your User ID for Track Changes. With Track Changes on, your color will appear in the toolbar. Click the drop-down arrow beside it to choose a new color.
---
Copyright © 2020 Leidos Digital Solutions, Inc (DSI)