Create a Form Letter
You can create a Form Letter in IQ for easy response to standard questions or issues that come to your office. You can use Merge Codes and Fill-In fields in order to maximize the use of Form Letters for multiple uses. You can also change the format used to either print or email the Form Letter at any time.
1.Open the Library Big Menu.
2.Select the option Form Letter from the New column.
3.Type the new Form Letter name.
4.Select the Type Form Letter.
5.Select the Directory in which you would like to store this Form Letter.
6.Select the Format you wish to use from the list. As you select a format, the email view appears in the display box on the right. Use the Email view and Printed view radio buttons to see how the format will appear when emailed or printed.
7.Use the Add button.

8.Once the Draft Form Letter record page opens, click or touch in the content section to enter or edit content. The HTML editor opens, allowing you to type or paste text, include images, hyper-links, bullets, or any other formatting you wish to include.
9.If you wish for this Form Letter to be available for inclusion in Message records prior to approval, place a check in the Assignable checkbox.
10.Select the View button to open the document.
11.Use the Attachments to add files that should be emailed or printed.
12.Use the Edit button in the Detail section on the right side of the page to enter additional information, such as Issue or Service Codes, Review Date, Description, associated Bill Information, associated Bill Position, and more. When you are finished editing the Detail, use the Save button.
1.To include a merge code in the content of a Form Letter, place the cursor in the letter where you would like the merge code to appear.
2.Select the Add Merge Code icon from the HTML editor.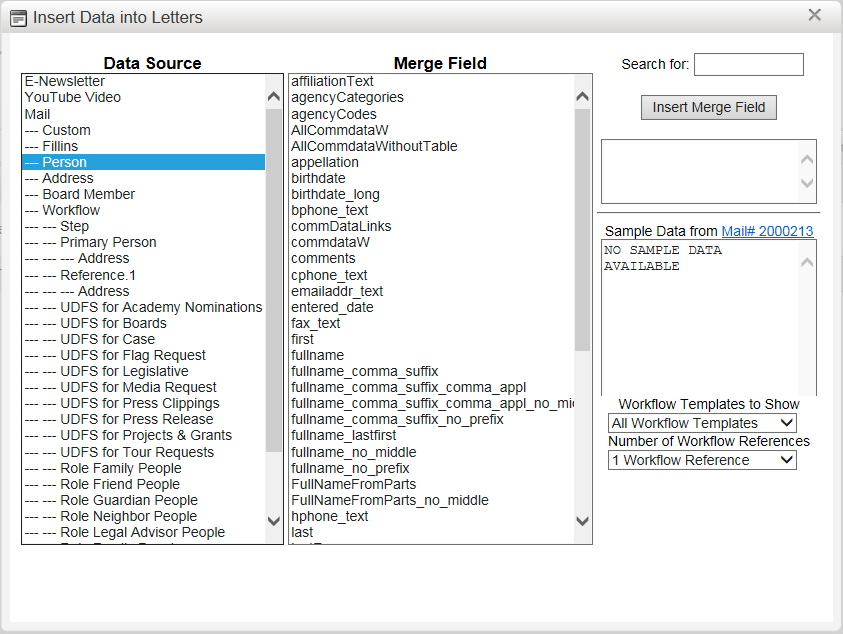 1.Select the Data Source.
2.Select the Merge Code.
3.Use the Insert Merge Code button on the right to copy the merge code.
4.The merge code appears in the Form Letter.
Change the Print or Email Format for a Form Letter
1.To change the Print or Email Format associated with a Form Letter, select the Format tab at the top of the Form Letter record.
2.To change the Email Format, use the Email Format button. To change the Print Format, use the Print Format button.

3.Select the existing Print or Email Format from the drop-down menu in the Name field.
4.Use the Save button.
---
Copyright © 2020 Leidos Digital Solutions, Inc (DSI)