---
Reappoint a Board Member
If a Board Member has been re-elected or re-appointed, you can use the Reappoint action to create a new Board Member record and change the status of the existing one to Former. This allows you to track each membership term separately for a Board Member.
To Reappoint a Board Member:
1.From the Seats panel of the Board record, select the Row Action to Reappoint. Or, from the Board Member record, open the Action button and select Reappoint.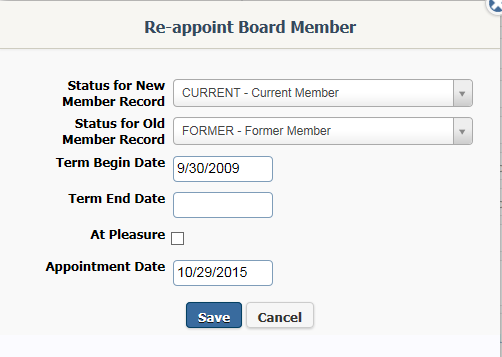 2.Select the Status for New Member record.
3.Select the Status for Old Member record.
4.Enter the Term Begin Date for the new term.
5.Enter the Term End Date for the new term.
6.If the seat is appointed without a Begin and End date, check the At Pleasure check box.
7.Enter the Appointment Date.
8.Select Save.
---
Copyright © 2020 Leidos Digital Solutions, Inc (DSI)