Add Affiliation Codes
You can add new Affiliation Codes from within a Contact record, if you have been granted access rights to create Affiliation Codes.
Adding Codes from a Contact Record
1.From the Contact record, to edit/add the Affiliation Code use the pencil

icon.
2.Click the Plus

icon to add a new code. IQ displays the Add Affiliation Code dialog.
3.Enter the Code ID (i.e. AAG).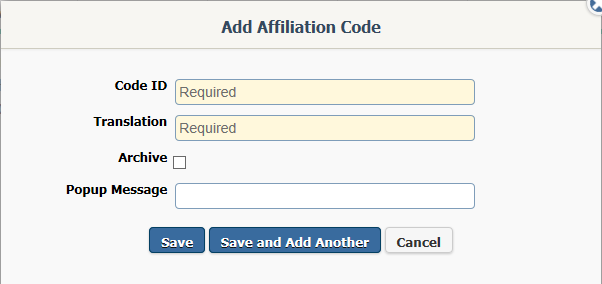 4.Enter the Translation (i.e. Association of American Geographers).
5.Type an optional message in the Popup Message field if you would like IQ to display this message text in red for any Contact with this Affiliation Code .
6.Select the Save button to create the new code and return back to the Contact record. Note: IQ automatically displays the newly added affiliation code in the Contact record.
---
Copyright © 2020 Leidos Digital Solutions, Inc (DSI)