Add RSS Feed
You can add an RSS Feed to your Home Page Tile configuration.
1.Open the Home Page Tile Gear in the upper left corner of the Home Page.
2.Select RSS Feed. Scroll to the bottom of the page to find the new tile.
3.Use the gear in the upper right corner of the tile to configure the RSS Feed.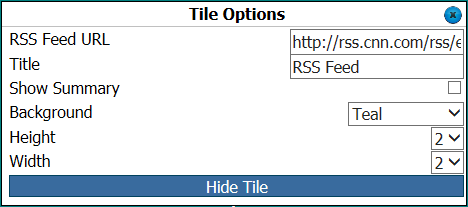 4.Enter the RSS feed URL in the first field.
5.Make any other edits you wish.
6.Close the edit dialog.
---
Copyright © 2020 Leidos Digital Solutions, Inc (DSI)